AEA EVENTS: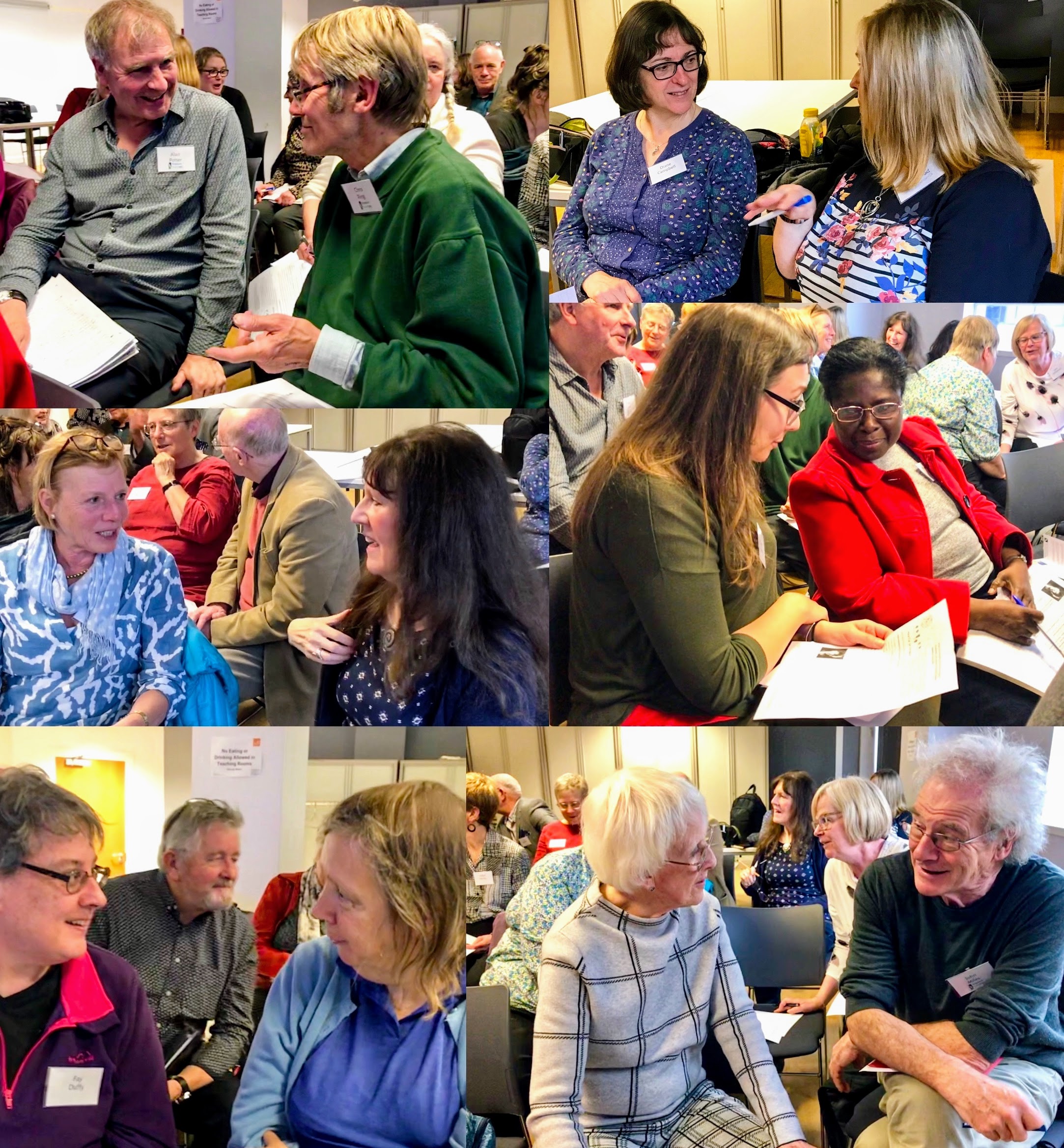 AEA holds events on later-life learning every year which both inform and engage participants.
The Annual Conference takes place each autumn. It attracts older adults, academics, professionals and practitioners. It is a one-day event but every four or five years the AEA holds an international residential conference. It also runs seminars, workshops or specialist conferences in different locations in the UK, often in partnership with other organisations.
Further details of our current activities can be found on our News and Views page.
EVENTS IN 2019
Friday November 22nd Seminar (BSG Special Interest Groups for Educational Gerontology and for Technology and Ageing with Institute of Mental Health) at University of Nottingham, Institute of Mental Health, Jubilee Campus, Nottingham
Sharon Clancy – Celebrating adult education – 100th anniversary of the 1919 commission
Elvira Perez-Vallejos - Do older people feel excluded from technology & accessing 'knowledge' ?
Parallel workshops: A. The future of adult education B. Digital learning and risks of digital exclusion
John Miles – Analogue learning – resisting smart technology as a social defence
Panel debate followed by Summary
(AEA is a partner in the Special Interest Group for Educational Gerontology with BSG and the Ransackers Association)
Thursday October 10th AEA Annual General Meeting, Seminar and Frank Glendenning Memorial Lecture at Centre for Lifelong Learning, University of Strathclyde, Glasgow
11.00 Informal roundtable discussion on current issues in later life learning
13.00 Annual General Meeting of AEA
14.00 Welcome and introduction to Centre of Lifelong Learning from Alix McDonald, Head of CLL
14.15-15.15 Workshop led by Dr Val Bissland, University of Strathclyde. Emotions in Later Life: Celebrating Ourselves.
15.15 Refreshment break
15.35-16.45 Frank Glendenning Memorial Lecture: Dr Marvin Formosa, Professor of Gerontology, University of Malta: 50 Years of Older Adult Learning: Successes, Limitations and Promises.
Further information and detailed programme here. Please see the 'Annual Lectures' page for more details about the Frank Glendenning Memorial Lecture given by Professor Marvin Formosa.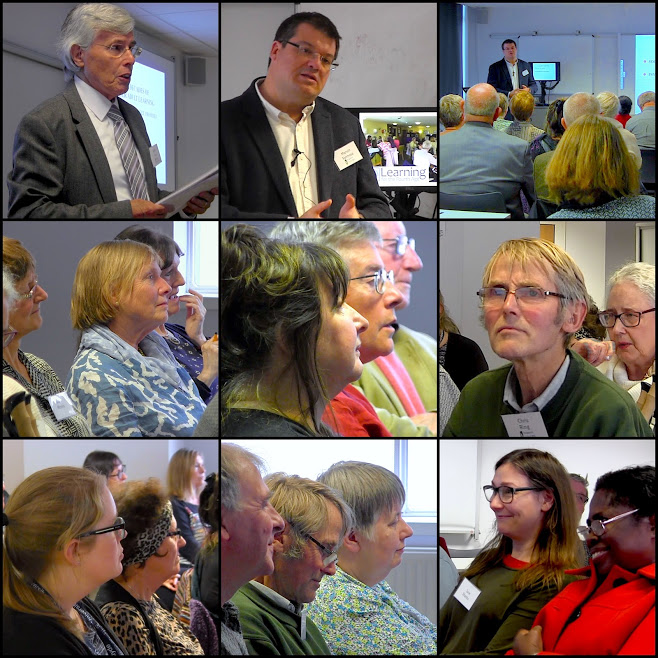 Photos: Val Bissland
Thursday, May 30th 2019 at Futurelearn, Camden Town, London NW1 8NP
AEA Workshop: Older Adult Education and Learning: the way forward
This Workshop was concerned with putting together a response on learning in later life to the Adult Education Commission's Call for ideas and evidence on the way forward for Adult Education in the UK in future decades*.The Call comes on the occasion of the centenary of the post WW1 Ministry of Reconstruction's hugely important Report to Government which established the principles of public adult education provision in the UK up to the 1990s.
The Workshop focused on the education and learning of older people in the UK in the next decades and collected together views and arguments which would be forwarded to the Commission for use in their report to be published later in the year. Central issues were increasing the volume of learning opportunities for older people, recognising and making the most of opportunities which already exist, and the role of the State.
*See https://www.wea.org.uk/get-involved/our-campaigns/adult-education-100
Tuesday March 12th 2019, University of Newcastle

SEMINAR (Special Interest Group for Educational Gerontology with BSG and Ransackers Association):
Future research and policy in gerontology, lifelong learning & education for older adults
Morning session: Universities of the Third Age: Impact, paradoxes and problems
Introductory contributions by Dr. Susan Moffatt (Newcastle University), Professor Alex Murdoch (London South Bank University) & Professor Keith Percy (Lancaster University)
Afternoon session: Gerontology, lifelong learning and education policy
Introductory contribution by Professor Tom Scharf (Newcastle University)
EVENTS IN 2018
Wednesday, September 19th 2018 AEA Annual General Meeting, Seminar and Frank Glendenning Memorial Lecture at Manchester Metropolitan University, Manchester
These events took place in Manchester Metropolitan University. The Annual General Meeting was followed by a workshop hosted by Dr Val Bissland on "Memory and How to Make the Most of it" - a workshop.  Full details here:  memory
After this workshop, the Annual Frank Glendenning Memorial Lecture was given by Paul McGarry, the Strategic Lead of the Greater Manchester Ageing Hub on "Developing the Age-friendly Greater Manchester programme to support culture and learning in later life." 
Friday July 6th 2018 AEA/BSG/Ransackers' Special Interest Group on educational gerontology held a Symposium within the BSG conference in Manchester on Lifelong learning and learning about the long life: an exploration of educational gerontology
This event was part of the British Society of Gerontology Annual Conference. 
Chaired by AEA member Dr Caroline Holland - The Open University with four papers presented
AEA Executive member John Miles of Kilburn Older Voices Exchange presented a paper on An ageing population and the gerontology curriculum in the UK: should there be a relationship?
Tuesday July 3rd 2018 – Educational Gerontology Special Interest Group Fringe Meeting, Manchester Metropolitan University
The AEA/BSG/Ransackers' Special Interest Group on educational gerontology hosted a fringe meeting at the British Society of Gerontology conference in Manchester. Professor Chris Phillipson's was the keynote speaker and called for a radical rethink under the title of Re-Creating Spaces for Ageing: The role of education in later life.
Further details here: Fringe
Caroline Holland's reflections on the event can be found here
Wednesday June 13th 2018 National Pensioners' Convention Pensioners' Parliament at Winter Gardens, Blackpool
Keith Percy and John Miles convened and spoke at a Fringe Meeting of over fifty participants on Active Minds – Still Learning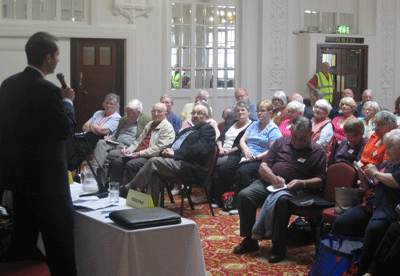 EVENTS IN 2017

Thursday 9th to Saturday 11th November 2017, Leeds, UK - Leeds Beckettt University
Conference: Identity, Voice, Creativity, Action!  Older people learning creatively for creativity, finding a 'voice' and taking action
The Association for Education and Ageing and Leeds Beckett University, School of Film, Music and Performing Arts co-hosted the 8th conference of the European Society for Research on the Education of Adults (ESREA) Network on Education and Learning of Older Adults (ELOA)
The full programme for the conference can be found here:  Schedule
Monday, September 25th 2017 AEA Annual General Meeting, Seminar and Frank Glendenning Memorial Lecture
After the AGM, there followed a workshop: Improving the learning experience for older learners.    Details here 
A report on this seminar appeared in issue 50 (Autumn 2017) of AEA Digest
The workshop was followed by the 15th Annual Frank Glendenning Memorial Lecture, delivered by Professor Paul Kingston (Professor of Ageing and Mental Health and Director of the Centre for Ageing Studies, University of Chester) on the theme of: "I am still learning" - loneliness, isolation, older people and learning in the post-modern world   Details here
Professor Paul Kingston
EVENTS IN 2016

Wednesday September 14th 2016 AEA Annual General Meeting, Frank Glendenning Memorial Lecture and Reception at Manchester Metropolitan University
14th Annual Frank Glendenning Memorial Lecture delivered by Professor Peter Lavender of the University of Wolverhampton on the theme of Older People's Learning: A reflection on some models

Monday April 5th – Wednesday April 7th 2016 AEA International Conference: Learning in Later Life: Theory, Policy and Practice at Open University, Milton Keynes, UK
Keynote Speakers: Professor Franz Kolland, University of Vienna; Professor Chris Phillipson, University of Manchester; Dr Jane Watts, consultant.
Keynote and plenary presentations and workshop papers from the Conference: access here
Photo: Val Bissland